How Expensive Are Engagement Rings?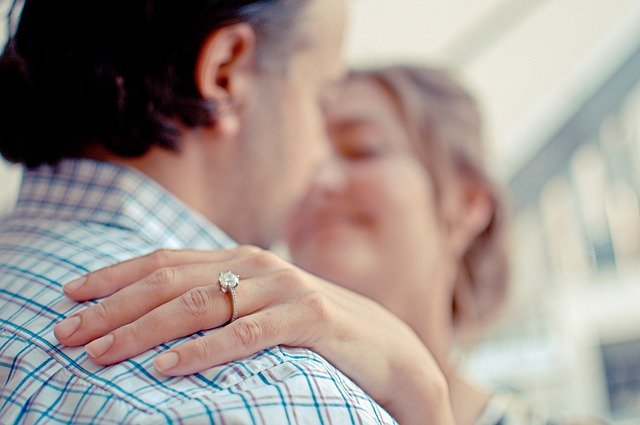 To present an engagement ring and kneel before your beloved is a very important and exciting step in life. That is why much attention should be paid to the engagement ring. So many articles were written about how much should cost the ring and in what design it is better to buy it. Some girls think that the engagement ring is related to the strong feelings of love of her boyfriend. For others, it is more important how creatively the lover will approach the choice of jewelry. That is why we decided to get through with this question.
In this article, we want to highlight such themes as:
What does your girlfriend expect?
Two months' salary or average national spending?
How much should I spend on an engagement ring?
How expensive is an engagement ring?
TIPs: where to save money on engagement rings?
How to buy an engagement ring online?
What does your girlfriend expect?
Before buying the engagement ring, know what is your girlfriend's wish. Every girl has dreamt about her prince on a white horse and that fabulous moment when he kneels before her holding a beautiful jewelry box in his arm where the stunning diamond ring sparkles in all its beauty. It'll be a big disappointment to get a ring that's not exactly what she wants.
The best decision in this situation will be to discuss a ring with your girlfriend. Over 40% of women want to be involved in the ring selection process. Tell her that you take your relations seriously and you want to spend your whole life with her. The conversation may not be romantic, but it is important. You will definitely know about her preferences in style, design, and material and what she thinks about the cost of a ring. Maybe you will both agree that it is better to buy a modest and simple ring. Maybe she will show you the picture of the ring that she always wanted.
Or if you do not want her to know about your intentions, pay attention to details: what clothing style she wears, what kind of jewelry she likes (in white, yellow, or rose gold), and with what diamond shape, does she prefer classic or more brave designer things. We also recommend asking her mother, sister, or best friend to help you with choosing the perfect ring for her or just trust your intuition.
Two months' salary or average national spending?
If you heard a belief that a man should spend his two months' salary on the engagement ring, then forget it! This rule was created for marketing goals of big diamond company De Beers which convinced all men on the planet to propose with diamonds.
Moreover, you do not need to rely on somebody's research about the average national spendings on the ring. In 2019, Americans spent an average of $7,750 on an engagement ring while most people think that the price should not be over $5,000.
There's actually no set rule on how much you should spend on an engagement ring. It can cost like $700 as $50.000. This decision is both emotional and rational and depends on two major things you have to consider:
first: what does your beloved expect and
second: what is your budget?
Don't be pressured into a ring you can't afford. Ignore the "two months salary" rule and national average ratings. Just calculate your budget for a ring and buy her the one she'll love.
How much should I spend on an engagement ring?
When you have decided on the design and style of the ring it is also time to think about your budget. Everyone needs to come seriously to this question as you have your future ahead and you cannot spend all your savings on the engagement ring. You need to consider your lifestyle, debt, current savings and expenses, and potential income. There is also an opinion that the man needs to pay double the amount of money which he spends on his hobbies and entertainment. Do you agree with this statement?
Another recommendation does not to borrow the money for purchasing the ring, better estimate how much you could reasonably spend. You don't want to feel the lack of money in your future family. In this unstable world situation, it is hard to plan how you will return the money. So look at your own financial situation to decide what you can comfortably afford.
Browse through online diamond stores and make research how much approximately the desired engagement ring will cost. Look through several websites and then compare the prices. Price comparisons are wise. Calculate how much time you need to save on the engagement ring. Then you won't appear yourself in a difficult financial situation.
How expensive is an engagement ring?
Price can really vary from store to store and jeweler to jeweler. A one-carat diamond engagement ring costs an average of $5,500. In 2020 the spendings on engagement rings were $3,756, which is less than the $7,829 average couples spent in 2018. According to the data of CreditDonkey, Americans in South Dakota spend the least with an average of $3,005 in 2019. Washington spends the most on engagement rings with an average of $10,109, while California comes in second at $9,482. Here you can see the average spend on engagement rings per state.
TIPs: how to save money on engagement rings?
To find the most beautiful engagement ring within your budget, follow these expert recommendations:
If you want to purchase the engagement ring and you are planning to go to the jewelry store unprepared then you risk getting bitter about the process. What do we mean? Every salesman wants to sell their diamonds for the highest price. They will tell you what extreme quality the diamonds are. That is why we recommend reading and learning more about the 4C's of diamonds. This knowledge will help you to find out how you can save on different characteristics of the stone. For example, if the size is truly what you want, you can choose a larger carat stone with a lower clarity or color. The diamond will still be stunning.
Take into account fancy shapes of the diamond as the round shape is the most expensive. Besides, you can choose other precious stones like sapphires, rubies, emeralds. They can be truly rare and high-quality stones.
Settings can be expensive. If your fiancee adores the engagement ring as Megan Markle has, then it can cost you a pretty penny. An alternative will be a classic solitaire setting to make the stone appear more prominent.
Maybe, you have some family heirloom? Ask her parents or your relatives about the family heirloom. It will be a great idea to propose with such a ring because it highlights the partner's feelings which will be much more meaningful than the biggest diamond you can find. You will propose with a ring that has history! There's a real romance with these diamonds. And a belief tells that if you give an engagement ring, the family heritage, of somebody who has or had a happy marriage that 100% your family will live happily in prosperity and peace.
You can go to the jewelry store, have a look at the desired ring, know the price and after that, you can better order the ring online as all the retailers sell diamonds more expensive at 40-50%.
How to buy an engagement ring online?
Once you know your budget, consider buying your engagement ring online. You can expand your opportunities to buy a better ring because online retailers are around 40% cheaper than local jewelers.
Besides, online shopping of diamond jewelry has become very popular and modern mainstream these years. More and more people got positive experiences as buying an engagement ring online can be a fun and interesting process. Especially during these times! We guess that Online Purchase is our Future!
It has many advantages and the first of them is freedom of choice! All the designs of the ring you can see in the catalog! Secondly, there is an opportunity to create your own custom ring. "There are so many artisan jewelers that make amazing, one-of-a-kind traditional and alternative engagement rings that you would not have access to otherwise," jeweler Kate Furman explains for the BRIDES. "It is easy these days to work virtually with a jeweler to design or pick exactly the ring you want. Do not limit yourself when there is a jeweler with the perfect aesthetic for you somewhere out there."
It's easy to find a quality original product online. It can be ordered directly from the manufacturer or in a branded online store. If you buy in other places, customer reviews will help, which can determine the level of service and products.
You can always have a virtual conversation with a jewelry consultant and there is no difference with the real one.
Usually, online stores like YB Soul offer free delivery and insurance and they have a free return policy. So you can be totally sure that everything will be fine and reliable.