How to Choose the Ring for Man?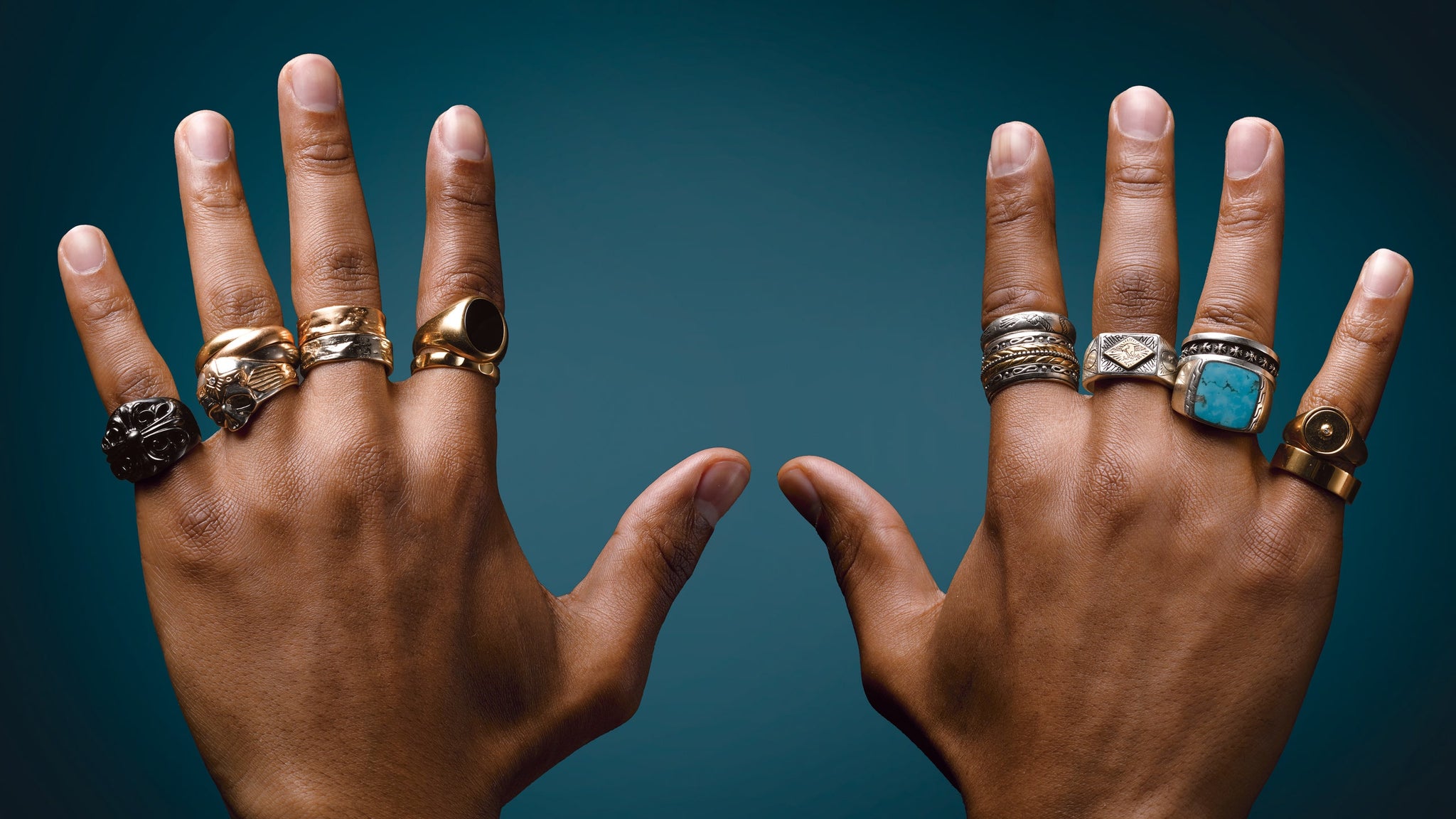 Many people believe that men should wear the rings only when they are married. But today wearing the designed rings is trendy and fashionable.
The same as it was a long time ago - wearing rings for men was quite normal. Let's begin with the history of jewelry. Interesting to know that the first rings were made of animal bones and wood and were intended only for men. Such jewelry was a symbol of power or belonging to a particular tribe.
And at the same time in the Middle Ages, the rings for women were also very popular. To be honest, those rings had no meaning and were used exclusively as jewelry.
In the 16th century, there was jewelry that looked like a signet ring, only under the precious stone, there was a cavity for the poison. In the 18th century, men's accessory on the finger was worn over gloves, so when hunting they could demonstrate their high status.
At the end of the 19th century, men's rings began to lose their popularity. It happened because the jewelry started to be created more for women.
Frankly speaking, the ring has always been a wonderful gift for any man. This is a wonderful accessory that adds sophistication and emphasizes the status of its owner. Now you can easily find a suitable ring, with any stone and from any metal. So let's figure out how to choose a men's ring and what to look for.
1. What rings do men wear? A ring for a guy can be of several types:
- signet rings;
- designed rings;
- wedding rings.
Men's finger jewelry has its own characteristics. Each ring is suitable for a certain image, style, status of a man. It is also important to choose the right size.
2. How to choose a male ring? When buying jewelry, there are a few things to keep in mind:
- the style for which the ring is bought;
- status;
- fashion trends;
- metal and the stone.
One of the important points is the combination with style. For example, is it a formal business or a daily style? For a formal suit and a casual look, you need to choose something modest, for example, designed rings.
Jewelry should be also chosen depending on the status. People with great financial means prefer expensive jewelry with a large, precious, exclusively natural stone.
3. Ring for men can be made of the following metals:
gold is a metal with which any precious stone looks spectacular and harmonious. Most often, males prefer rings made of white gold;
platinum - due to their discreet shine, are the most popular men's accessory. Such items are worn by businessmen and powerful men;
steel - the rings made of steel are preferred by young guys;
titanium - rings made of such metal are the most durable jewelry. Such products give man brutality. Due to their strength and durability, the accessories can be worn for many years, they do not lose their shape, shine, and color.
4. How to choose the right size.
Ring sizes for men are the most important. Because of ignorance of the size, women rarely buy finger jewelry as a gift.
Since fingers can swell in the morning and evening or, conversely, be too thin, it is better to go shopping during the day, when it is not very hot and not very cold outside, then the size will be the easiest to determine.
If you want to surprise your loved one, you can find out the size using a regular thread. To do this, you need to wind the thread around your finger five times - it is important that the thread does not pinch the finger too much, but also not be weakened. After you did this five times - cut the thread. Then you need to remove the thread, measure its length from the beginning to the end, and multiply the result by 15.7. The resulting number is the size of the ring.
5. Where to buy a jewelry ring for a man?
You can buy the ring for men both online and offline. We want to recommend the YB Soul store because our online shop will match all your expectations. In YB Soul Jewelry Company you will find:
- quality service;
- affordable prices;
- exclusive pieces of diamond jewelry;
- benefit promotion;
- attentive, professional workers;
- the ability to order delivery to any city in your country.
The store's website has a large category of men's rings, where you can choose jewelry for any style, complement any image and make it more stylish and harmonious.