The Perfect Earrings For The Bridal Party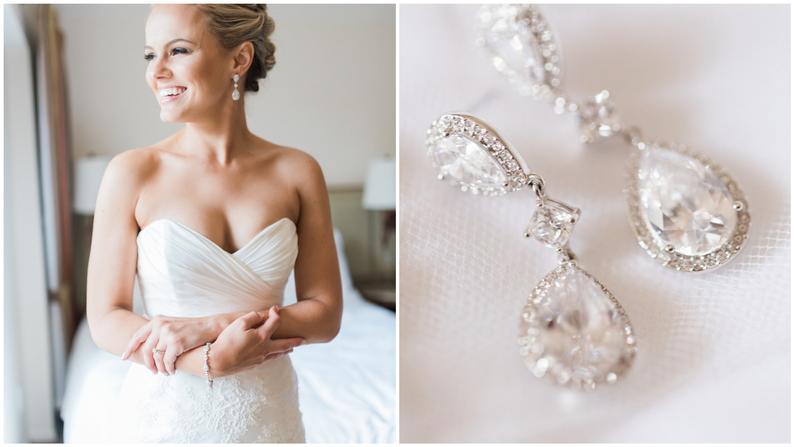 Every bride wants to look perfect on that significant day - the day of her wedding. The preparation takes a lot of time. The bride needs to choose not only a wedding dress that will perfectly suit her figure but also she should have beautiful earrings that will flatter her eyes, face type, and hairstyle.
How to pick up bridal earrings correctly?
Perfect earrings will emphasize the beauty of a woman who wears them. They need to accentuate all good points of skin tone, the color of eyes, face type, and hairstyle. This accessory is an invariable wedding attribute. It is also important to remember that wedding earrings need to be comfortable and with a safety clasp.
First of all, you need to choose what you want: fine jewelry or gemstone jewelry. It is based on your budget. But to look chic and luxurious remember one thing - chip jewelry from China will make your look cheaper. If you decide to buy fine jewelry, buy designer earrings from leading brands. They will be able to make a positive effect on your appearance - unusual, original, unrepeatable. But still, the first place among jewelry takes gemstones. Diamonds, sapphires, emeralds, amethysts make your look unforgettable.
Whether you are betting on precious metals or preferring non-precious alloys, cool metals are worth your attention. Silver, white gold, platinum, and anything that imitates them are excellent choices. Cold metals adorn the bridal look with tenderness and softness. Yellow gold and other similar alloys affect the image making it cheaper. But, of course, there are no rules! If you prefer yellow metals better than white ones - the main thing is to choose what really suits you:)
To choose the right earrings for a wedding dress, you need to take into account a lot of nuances. Let's start with some useful tips for brides from us:
Gold and bronze jewelry will perfectly suit dark-skinned brides. Women with fair skin should try on earrings made of white metals and silver. Besides, if your wedding ring is from yellow gold, choose earrings with the same gold color.
Choose the gemstone according to your eye color. Emeralds will highlight green and brown eyes and sapphire, topaz, aventurine will suit blue and grey eyes.
Stud earrings - the best choice for a laconic design outfit. The more extraordinary the wedding dress the simpler should be the earrings. Stud earrings will accentuate the bride's youth and become a natural continuation of her wedding look.
Chandelier earrings will beautifully suit tall beauties: they emphasize the bridal look but do not dominate it. For skinny girls, it is not recommended to put on big chandelier earrings as they will take all the attention away from the bride. Experts also say that the younger the bride, the lower the likelihood that large earrings will be the perfect choice for wedding attire.
Your entire look needs to fit in with Pearl Earrings. Pearls are very demanding. Big pearl balls will better look on the ears of mature women and small pearl studs or drops will make tender young brides.
Do not combine incongruous. We mean do not combine sapphires with emeralds. The wedding jewelry set should be made from the same metal and gemstone. Avoid dissonance. Make sure the accessories match each other. After all, the best pair for an emerald is another emerald, not a sapphire.
Too much doesn't mean better. Brevity is always trendy. That is why we recommend wearing no more than two jewelry pieces on the wedding day. Show yourself, your natural beauty, do not allow sparkling accessories to put yourself in shade.
We would also like to mention that the list of Top-Trendy earrings leads the diamond drop earrings.
How to choose bridal earrings according to the wedding dress model?
Of course, all the brides will choose the wedding dress first and only then the jewelry. So here we prepared some pieces of advice on how to match the earrings with a bridal gown:
The simpler the wedding dress, the more luxurious the earrings should be. And vice versa.
Vintage earrings will be an ideal decoration for a Greek type of dress.
Bodycon "mermaid" dresses can be well complemented with strict but stylish products. Ideally, with diamonds.
You will look great with stud diamond earrings if you have a wedding dress with V-neckline. In this situation avoid long drop earrings.
The neckline in the shape of a heart needs large hanging jewelry accessories.
A wedding dress with a closed neckline goes surprisingly well with huge chandeliers. But everything needs to be in balance.
If your wedding look has a bridal veil that is decorated with rhinestones or embroidered with beads, then it is better to choose simple and laconic earrings.
If the wedding veil is simple and laconic, the bride is not limited in the choice of earrings.
Last but not least: earrings and your hairstyle
Every bride wants to look gorgeous! And choosing diamond jewelry is a very responsible step. First of all, it is better to think of the wedding dress, hairstyle and only then come up with accessories.
If you want chic loose curls as your wedding hairstyle then try to avoid big and long earrings. They will always be in mess with your hair and will bring you no joy of the wedding evening. Studs will be an ideal complement to the bride's chic loose hair.
If you are planning to lift your hair up, exposing the oval of the face and shoulders or you are the owner of short hair, the win-decision for you will be to wear long drop or chandelier earrings.
The trendy haircut goes well with hoop earrings.
We hope that the information given in this article was useful for you! But remember every bride is special! So whatever you choose as your bridal gown and accessory you will look stunning!